Doctor Recommended Head and Neck Relief Kit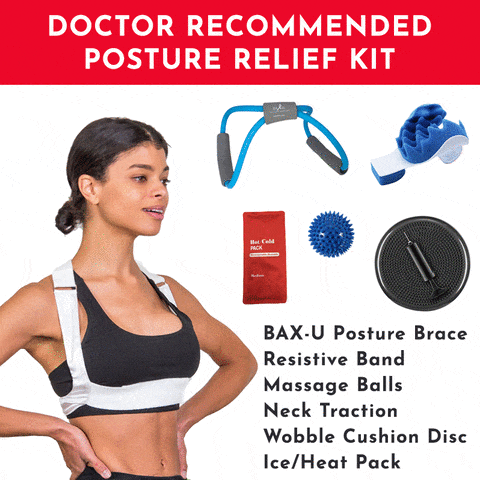 Home Therapy to help manage the discomfort for the most common type of headaches caused by a tight neck muscles, poor posture and stress. Specific tools are selected to help reduce discomfort and work on reducing the underlying causes of tension.
The neck is a coordinated network of nerves, bones, joints, and muscles. Neck Discomfort can usually be alleviated with self-care. Your Home kit has selected home tools to improve posture, traction the neck, strengthen the weak muscles and massage the tight muscles.
Features:
Tools selected and provided in this kit will aid in muscle relaxation, spinal traction, posture correction and regaining muscle strength for better mobility at comfort of your home.
Benefits:
Reducing Damages: Chaining posture with BAX-U POSTURE CORRECTOR helps reduce muscle fatigue, improves balance and retracting shoulders to aid in better body alignment.
Relax Tight Muscles: Neck, Upper back support with combination of Traction, Heat/Ice and Massage Therapy aids in soft tissue relaxation.
Strengthening and Retraining: Neck/Cervical re-molding towards improved alignment, in combination of back and neck muscles core and posture exercise help build a stonger back and neck.